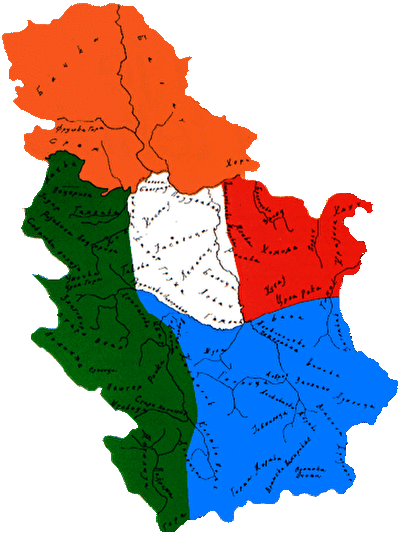 Serbia as a country that rarely can be proud of its wealth of folklore.
In Serbia there are many people and their customs and games over the centuries they became interwoven with the Serbian folklore seems particularly rich.
A typical form of Serbian folk play is playing in the round. Nations in Serbia believe that schools can play from their gods to intercede on life, prosperity, health, gender, the progress ...
Many important events such as birth, marriage, death, victory in battle or perform rituals, were accompanied by songs and dances.

Costumes in the Serbian dances are very diverse and rich end each costume includes a revealing picture of his region, displaying the creative achievements of people who have made and worn.

Each garment is a work of art done by hand.


Serbia have a five different ethnochoreology regions:





CENTRAL SERBIA


NORTH-EAST SERBIA

In this region for centuries lived together two ethnic groups: Serbs and Vlachs.


SOUTH-EAST SERBIA

This is the richest entity of dances, steps and music in Serbia.


WESTERN SERBIA


and


VOJVODINA

In this region there are large numbers of ethnic groups (Romanians, Hungarians, Slovaks, Gypsies, Rusyns, Croats, ...) which makes specific repertoire of Vojvodina.